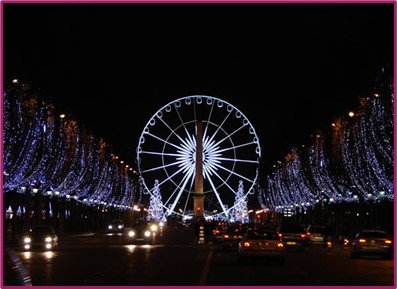 Paris, Moulin Rouge, Epernay & Fine Cuisine
Join us on this exciting tour to Paris and Epernay where you will experience that magical feeling of Christmas whilst enjoying some of the finest French Cuisine and Wines. Our tour combines the best of the Paris "Christmas Markets" together with its "Night Life" and the very best of the fantastic "Habits de Lumiere" festival in the Champagne Capital, Epernay.
In Paris you will experience the seasonal atmosphere of the Christmas Markets, Festive Lights, Excellent Cuisine and an evening of Fun, Food and Entertainment at the world famous "Moulin Rouge". 
After three action packed days in Paris we make our way to Epernay for a long weekend of Champagne Celebrations, commencing with the amazing "Habits de Lumiere" event and continuing the following day with the "Habits du Saveurs".  On Saturday evening we enjoy another fantastic dinner accompanied by champagne and wine in one of the finest restaurants in town. On Sunday be sure to visit the comprehensive display of over 300 classic vintage vehicles which will gather in the town centre.
After an event filled time in Epernay we make our way back towards Calais and our final overnight stop at Chateau de Cocove where we will have yet another excellent group dinner in the Chateau's gastronomic restaurant.
Day One – Monday 4th December
Our tour will commence in Paris, at the well-appointed campsite Camping de Paris, located right in the heart of the 16th arrondissement, on the banks of the Seine and surrounded by nature our campsite is the ideal base for exploring this amazing city and the numerous Christmas festivities taking place. This evening we meet in the campsite bar/restaurant for a Welcome Reception with Buffet and your Tour Directors will provide you with some hints on how best to spend your time in Paris.
Day Two – Tuesday 5th December
Opportunity today for you to visit some of the most popular Christmas venues in the city.  With over 15 different market options you'll be spoilt for choice, just one prospect is the fabulous "La Magie de Noel" market located just a few minutes' walk from the famous "Champs Elysees" festooned with its dazzling array of Christmas lights and trees. With over one hundred traders selling mostly French Produced food, wine and gifts there will be something to suit everybody's taste.  Maybe, take a ride on the "Ferris Wheel" and gaze down at the amazing illuminated Place de la Concorde below – "enjoy the atmosphere".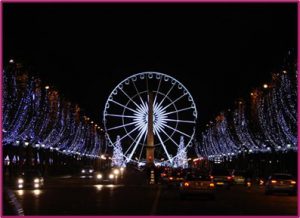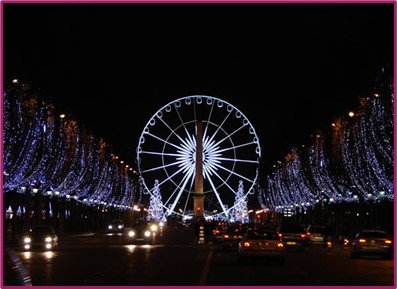 Day Three – Wednesday 6th December
Enjoy a more relaxing day today and combine some traditional sightseeing interspersed with visits to some of the smaller traditional markets.  Early this evening we leave from our campsite by coach for our journey to the famous "Moulin Rouge". The evening will begin with a Champagne Dinner followed by the Glitter and Excitement of the Revue consisting of a troupe of 80 artists including 60 "Doriss Girls". The theatre lights go down, the curtain goes up and the entire troupe appears on the stage under the gaze of the audience…. After an amazing evening we return to our campsite and motorhomes, for a good night's sleep.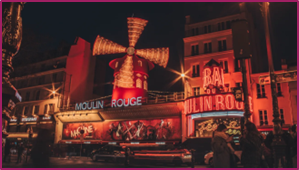 Day Four – Thursday 7th December
Another opportunity today to visit more of the festive markets including the Marché de Noël sur le Parvis de la Défense, with over 350 decorated stalls to pass through, you will be amazed at the range of products on offer and become immersed in the "Seasonal Atmosphere".  As an alternative to the traditional Christmas Markets a visit to one of the most prestigious department stores in France – "Galeries Lafayette", is highly recommended.  This store is housed in an amazing galleried building topped with a magnificent domed roof and has a comprehensive range of products. Visit the outstanding food hall and perhaps sample some of the delights on offer.  After your visit to the store you may like to visit the Musée de L'Opéra and the Palais Garnier, which are to be found adjacent to the store.
Day Five – Friday 8th December
Leaving Paris today we travel to our next destination of Epernay, one of the most prestigious wine towns and home to many of the great Champagne Houses, including Mercier and Moet et Chandon.  We will be staying at the municipal campground opened especially for this special weekend. Located less than 2km from the town centre the campsite is ideally positioned to be able to walk into town and enjoy all the festivities. The event for this evening is the Habits de Lumière, beginning with the illumination and events taking place along the Avenue de Champagne culminating in a fireworks display.  Also, throughout the evening many of the Champagne Houses open their doors to the public and host their own light displays and Jazz bands, as well as providing an opportunity to taste their champagnes. 96 miles
Day Six – Saturday 9th December
A relaxing start after last night but don't miss the Habits du Saveurs which takes place today, here you can experience the gastronomic heritage of the champagne region.  This evening we get to taste some of this great food as we eat in one of the finest restaurants in Epernay, French food at its very best served with a selection of excellent wines.
Day Seven – Sunday 10th December
This morning will see the arrival of a huge range of classic vehicles which will assemble in the towns central car-park. With over 300 vehicles ranging from a fantastic chauffeur-driven limousine to an ancient fire truck, this is the largest display of vintage vehicles to be found in North Eastern France and creates a great parade of Chromium and Gleaming Bodyworks.
Day Eight – Monday 11th December
We will start our return journey towards Calais and tonight we have been granted special permission to stay overnight at the eighteenth-century Chateau de Cocove, where this evening we will enjoy our farewell dinner in the Chateau's fine gastronomic restaurant.  At the end of the evening, it's no more than a few steps back to our motorhome beds. Note, there are no facilities available. 169 miles
Day Nine – Tuesday 12th December
Our tour ends this morning. It is only a short drive back to the port at Calais for those returning home and there you will be able to make your final purchases for the festive season.

PRICE
Motorhome with 2 people = £999 per person
Motorhome with 1 person = £1399
DEPOSIT £400
INCLUDED IN PRICE

7 Campsite nights with electric hook-up
1 night at Chateau de Cocove with no facilities
Welcome Reception with Buffet
Moulin Rouge – Champagne Dinner and Show
Habits de Lumière
Dinner in Epernay Restaurant with wine
Farewell Dinner in Chateau de Cocove with wine
Tour information pack with suggested routes & GPS co-ordinates
Services of Tour Directors travelling in their own motorhome
This tour starts in Paris, but if you would like to travel at the same time as the Tour Directors on the outward journey, please book the optional tour package so that everything can be arranged on your behalf
OPTIONAL PACKAGE
Return Dover/Calais Ferry with a Flexible Ticket + Club Class Lounge
Two additional campsite nights with electric hook-up in Bruges, Belgium starting on Saturday 2nd December
Dinner at a restaurant with wine near the campsite
Tour information pack with suggested routes & GPS Coordinates
Services of Tour Directors travelling in their own motorhome
OPTIONAL PACKAGE PRICE
Motorhome with 2 people @ £309 per person
Motorhome with 1 person @ £499