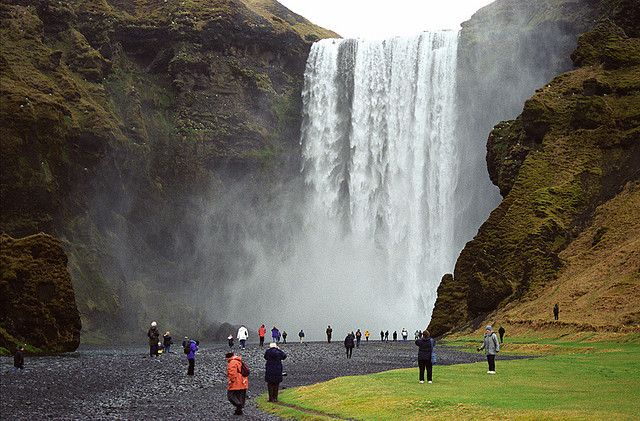 A journey around Iceland exploring the amazing natural phenomena 
Iceland is far more different than you ever imagined, where you can witness the marvels of Mother Nature up close. You will see several glaciers, spouting geysers, steaming mud-pools, icebergs, magnificent waterfalls and volcanoes
This tour will be best enjoyed by able-bodied, adventurously minded people who enjoy the "outdoors". The driving will be leisurely, and independant so that you will have the opportunity to visit many of the attractions while travelling between campsites. There is only one main road around Iceland with smaller roads off to the various places of interest, please note that many of the smaller roads (white roads) do not have tarmac.
The Icelandic view of camping is not like ours, so their campsites are usually a very simple affair with basic, but clean facilities. There is no guarantee of an electric hook-up on all the campsites visited so tour participants should be prepared to use their motorhome on gas and 12v when needed – we will also be staying on some Aires where no facilities will be available.
Our ferry schedule means we also have the opportunity to spend a few days on the Faroe Islands on our return journey, another wonderland of nature. The ferry has a choice of bars, restaurants and various entertainment for you to enjoy during your voyage and en-suite cabins are included for you
Most of the country is uninhabited, with over 50% of people living in the Reykjavik area, but please be assured that the warmth shown by Icelanders, their desire to make your stay as pleasant as possible will, like the spectacular landscape, never be forgotten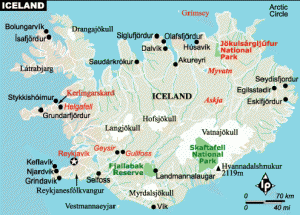 Day One – Monday 3rd July
We meet at a campsite in Denmark. This evening we will have an informal Drinks Reception, an opportunity for everyone to get together for the first time.
Day Two – Tuesday 4th July
Board the ferry for Iceland today and after the vehicles have been loaded, we will set sail
Day Three – Wednesday 5th July
A day at sea, calling into the Faroe Islands on our way
Day Four – Thursday 6th July
Early morning arrival at Seydisfjordur, Iceland. Following disimbarkation and customs we will have a short drive to our first campsite in Egilisstaoir. There is a supermarket and bank here for those who need them. 20 miles
Day Five – Friday 7th July
During our drive today we will have enough time to take detours to start our acquaintance with some of Iceland's natural wonders, the Maar Viti Crater, Namafjall bubbling mud-pools and the Grjotagia steam rift. Lake Myvatn campsite 90 miles
Day Six – Saturday 8th July
Time this morning to visit the Dimmuborgir lava formations before moving on to our next campsite on the coast at Husavik, where we stop for three nights 70 miles
Day Seven – Sunday 9th July
During the next two days we will take a boat trip in search of whales, this will be arranged around the local weather. Group dinner in a restaurant in Husavik this evening
Day Eight – Monday 10th July
An opportunity today for you to take a drive to the Asbyrgi rock formation, or walk into town to visit the whale museum
Day Nine – Tuesday 11th July
En route we will visit the Godafoss Falls before staying overnight at Akureyri, the capital of the north of the island. 100 miles
Day Ten – Wednesday 12th July
During todays drive to Blondous, it's worth visiting the Glaumbaer Turf Houses. 100 miles
Day Eleven – Thursday 13th July
We head on to our next campsite at Skykkisholmer where we stay for two nights. 215 miles
Day Twelve – Friday 14th July
Free day today to do as you please
Day Thirteen – Saturday 15th July
Today's drive will bring us to Icelands capital Reykjavik 160 miles where we will stay for three nights. You can either drive around the Whale Fjord, or take the longer route around the Snaefellsnes Peninsular 250 miles Whichever route you take you will have to use a toll tunnel.
Day Fourteen – Sunday 16th July
Free day to visit Reykjavik
Day Fifteen – Monday 17th July
Free day for further time in the capital or to relax
Day Sixteen – Tuesday 18th July
We drive around the Reykjanes area today, stopping to see the "Bridge of Titanic Plates", the South Western Point lighthouse and the hot springs at Gunnuhver. Later in the afternoon there will be time for you to  visit the Blue Lagoon
Day Seventeen – Wednesday 19th July
Todays drive is about 115 miles and will bring us to the Gullfoss Falls.
Day Eighteen – Thursday 20th July
An opportunity to visit the Geysir area ( one performs every 15 mins), and also Pingvellir which was once the assembly ground for Iceland's ancient goverment.
Day Nineteen – Friday 21st July
We drive another 100 miles today to reach our next campsite at Skogafoss Falls, stopping off at the Seljalandfoss, where we can walk behind the waterfall
Day Twenty – Saturday 22nd July
A drive of about 120 miles will allow us to visit Vik, with its black sand beach and huge basalt columns in the sea. This evening we will camp in the National Park campsite for two nights.
Day Twenty-One – Sunday 23rd July
Free time to relax, or join with the Tour Director's in a leisurely walk to the Glacier
Day Twenty-Two – Monday 24th July
A short drive today before we experience one of the highlights of the tour, a trip in an amphibious vehicle on Jokulsarlon Lake. It is in this lake where icebergs form before they break away and drift into the open sea.
Day Twenty-Three – Tuesday 25th July
Another short drive to our campsite in Hofn. This evening we will have a group dinner in a local restaurant
Day Twenty-Four – Wednesday 26th July
We drive about 200 miles back to Egilsstadir
Day Twenty-Five – Thursday 27th July
We are now just  20 miles from the port where our ferry will leave today for the start of our return journey.
Day Twenty-Six – Friday 28th July
The ferry schedule plans for a very early arrival at Torshavn, Faroe Islands, where after disembarkation we drive to the town of Vestmanna for two nights
Day Twenty-Seven – Saturday 29th July
Free day on the Faroe Islands before we have our "Farewell Dinner" this evening
Day Twenty-Eight – Sunday 30th July
Full free day, opportunity to visit Torshavn during the day and this evening we will board the ferry once more to continue our return sailing to Denmark
Day Twenty-Nine – Monday 31st July
Free day at sea
Day Thirty – Tuesday 1st August
Tour ends today with our morning arrival at Hirtshals, Denmark
PRICE
6mtr Motorhome with 2 people = £000 per person
6mtr Motorhome with 1 person = £000
Supplement for motorhomes above 6mtr @ £000 per meter or part meter (additional return ferry cost)

1st  DEPOSIT £000.00
2nd DEPOSIT £0000.00 to secure ferry places – due 31st July

INCLUDED IN PRICE
Return Iceland/Faroe Islands ferry
Inside en-suite cabin accommodation during the sailings
Campsite nights – note: electric hook-up on Iceland where available may be at an additional charge
All transfers required for excursions as per the itinerary
Entrance fee's as described in the itinerary
Tour information pack with suggested routes, campsite information and GPS co-ordinates
Services of Tour Directors travelling with their own motorhome

Excursions, Events & Meals

Drinks reception
Whale Watching Excursion
Group Dinner in Hasavik
Reykjavik Transport
Jokulsarlon Lake Excursion
Group Dinner in Hofn
Farewell Dinner
This tour starts in Denmark, but if you would like to travel on the outward journey at the same time as the Tour Directors, please book the optional tour package so that everything can be arranged on your behalf
OPTIONAL EXTRA PACKAGE
Return Dover/Calais Ferry with 60 day Flexible Ticket + Club Class Lounge
Five additional campsite nights with electric hook-up
Dinner at one of the campsite restaurants
Tour information pack with suggested routes
Services of Tour Directors travelling in their own motorhome
OPTIONAL PACKAGE PRICE
Motorhome with 2 people = £000.00 per person
Motorhome with 1 person = £000.00