Dear Fellow Motorhomer,
October and where will you stop with your motorhome? A highlight for many people whilst travelling in a motorhome is the ability to take a break in a stunning location. From two of our recent tours are such locations.
Red Rock – Sardinia September 2019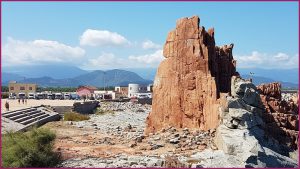 Shipka Pass – Bulgaria September 2019

Our tours of Sardinia, Switzerland and Romania/Bulgaria have all recently been completed with customer reviews from these.
'A tour of contrasts, beautiful beaches, spectacular scenery, with some great driving routes. All ably led by Ron & Sue – thank you both.' Carolyn & Roger Metcalfe – Sardinia – Sept 2019
'Thank you Ron & Sue for a most enjoyable tour of Sardinia. GB Motorhome Tours certainly take you to great places and give you experiences that you could not get if travelling alone. This was our 5th tour with the company and we are looking forward to the next.' June & Graham Perkins – Sardinia – Sept 2019
'Our first tour with GB Motorhome Tours and we have really enjoyed it. Everything was organised and we have certainly seen a lot of Sardinia. We will return.' Michele & Paul Steele – Sardinia – Sept 2019
'This tour really was magic! We ventured on trips we would never have contemplated on our own and enjoyed such an amazing experience from places like the top of the Jungfrau. The organisers Alan & Chris did their usual superb job of looking after us.'  Ann & John Edwards – Swiss Magic – Sept 2019
'Our first time with GB Motorhome Tours and it will not be our last. The tour leaders were first class – efficient, helpful and knowledgeable.  Many thanks.' Peter & Denise Ranger – Swiss Magic – Sept 2019
'Enjoyed our first trip with GB Motorhome Tours very much.  More relaxed holiday than we have experienced in the past with other companies and plenty of knowledge and information at the tour leaders fingertips for individual trips in our own time.'  Thelma & Clive Winter – Swiss Magic – Sept 2019
'We have been on many tours but this was our first with GB Motorhome Tours and it more than satisfied our expectations. The countries and routes travelled were well chosen and activities well organised, Leadership was first class and as such made for a happy holiday.' Barry & Di Short – Romania & Bulgaria – Sept/Oct 2019
'Very different, and very interesting countries, which is what we were hoping to experience and we weren't disappointed. Bring your appetite to this tour! Have already booked our next trip with GB Motorhome Tours.' Pete & Di Saunders – Romania & Bulgaria – Sept/Oct 2019
Before our tours start again, with the 7 night Christmas Extravaganza in December and our 70 night winter trip to the Canary Islands in January, over the weekend of 1st – 3rd November we are exhibiting at both Lowdhams in Nottingham during their NovemberFest weekend, and at Camper UK for their Bonfire Extravaganza weekend. If you are attending either event do come along and see us.
Remember with November approaching and cooler temperatures arriving if you're not using your motorhome drain down the water systems to avoid potential damage from frozen tanks and pipes. How to do this is usually covered in your motorhome habitation manuals, or if in doubt give your motorhome dealer a call and they should be able to guide you.
Enjoy your winter motorhoming and we hope to see you on a tour soon.
Kindest regards,
Nurcan & Kevin, Sue & Ron, Chris & Alan, Liz & Dave, Cheryl & John
Your GB Motorhome Tours Team
www.GBMotorhomeTours.com
Info@gbmotorhometours.com
0044 7481 479 057