Dear Fellow Motorhomers,
Happy New Year and with Christmas behind us we look forward to many great motorhome travels in 2019. Our 2019 tour programme began at the very start of the year with a special Switzerland for New Year tour. This weekend see's the tour participants returning from Switzerland and the tour didn't disappoint; with a great New Years eve celebration and Switzerland provided that wonderful winter feeling that a covering of snow produces.
In a weeks time the second 2019 tour gets underway with the departure from the UK of those travelling to the Canary Islands for the winter, where tour participants can expect sunshine rather than snow.
For planning a get away for yourself in the spring take a look at our
April Springtime in Holland tour which packs a lot into 9 days
June Bavaria tour is an extended 22 days relaxed tour of southern Germany including travelling much of the Romantic Road
June Atlantic Coast Adventure tour which is a relaxed journey along the French west coast and includes a 2 day visit to Puy du Fou along with secured tickets for the magnificent Cinescenie Show
The above three tours have availability and can be booked on our website. Also there is one space shortly becoming available on this years June Southern Norway tour . If you are interested in the opportunity of joining this fully booked tour please email us as the place cannot be booked via the website.
Looking beyond 2019 we have begun making some 2020 tours available to view and book on the website. Motorhome numbers on all tours are restricted to around 15 vans and many tours do become fully booked, so as you decide which tour(s) you would like to join it's better to make a reservation at that point. Additional tours for next year will be added to the website over the coming few weeks including tours to Turkey and Denmark for 2020.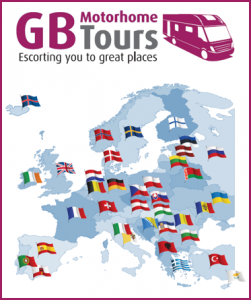 Where will your travels take you?

The above flags represent destinations covered by GB Motorhome Tours and remember our tours are a lot more than just about us booking campsites for you. All tours include group excursions with transport provided, a number of group meals, services of our Tour Directors travelling with the tour in their own motorhome, full printed tour information pack, all GPS co-ordinates for your Sat Nav and of course all the campsites being pre-booked. Additionally, complete flexibility for you to decide to meet us at the start of the tour (which will be in or near the country of destination) or to have everything arranged for you all the way from the UK by including the 'optional travel from UK package'. Within this package are included additional campsite nights between the UK and the start of the tour, your fully flexible return channel ferry crossing with entry to the ships Club Lounge and the services of our Tour Directors travelling with you from the UK.
Until you next get away, if it is going to be a while before your motorhome is used again consider opening the internal cupboard doors to allow circulating air to reach all areas and reduce the possibilities of damp over winter. Likewise for the fridge door, leave this open to keep the fridge nice and fresh inside.
We look forward to travelling with you throughout 2019 and beyond; if there is anything you wish to ask about any of our tours feel free to contact us, we are always happy to answer questions.
Kindest Regards,
Nurcan & Kevin, Sue & Ron, Chris & Alan, Liz & Dave, Cheryl & John
Your GB Motorhome Tours Team
www.GBMotorhomeTours.com
Info@gbmotorhometours.com
0044 7481 479 057