Dear Fellow Motorhomer,
May and it's beginning to feel more like summer in the UK. For those on our early spring tours, summer has already arrived with both the Greece and Spain/Portugal tour groups having enjoying lots of warm sunshine. The Greece tour, currently at it's last campsite on the island of Corfu, has now almost finished as temperature this far south begin to get hotter than most motorhomers comfortably enjoy.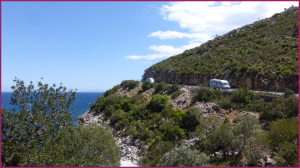 Scenic coastal driving in Greece
Already looking ahead to next year our 2020 tour programme is now complete and a summary of this follows. Full tour itineraries are available on our website or by clicking on any of the tour names below. Already some tours have attracted a lot of interest and are now fully booked. As you decide which tour(s) you would like to join it's better to make a reservation at that time so as to secure your place, bookings can be made online or by telephone, and as always if there is anything you wish to ask feel free to contact us, we are always happy to answer any questions.
2020 Tours
Jan/April – Canary Islands 70 Nights – Get away from the after Christmas cold, take you and your motorhome on an adventure for 70 nights of warmth and exploration.
April/May – Greece 19 or 33 nights – Fully booked for 2020, reserve list available – Spring warmth, History and Easter Celebrations for the first part, followed by Micro climates, Islands and not to be missed sights for those staying on.
May/June – Balkan Gems 29 Nights – Explore contrasting Balkan countries as we travel through Slovenia, southern Hungary and Serbia. Great mix of coast & cities, rivers & nature, and an above average number of group meals included.
May/June – Grand Duchy to the Cote d'Azur 28 Nights – From Luxemburg's forests & nature parks through Switzerland's lakes & mountains to the glamourous resorts of the Cote d'Azur, all in a relaxed manor.
June – Delightful Denmark 19 Nights – Enjoy the light nights of this intriguing country as we travel through its many regions. Guided visits in Ribe, Aarthus, Roskilde & Copenhagen are all included.
June – Italy down to the heel – Discover the charming southern regions of Italy as this tour takes you all the way to the heel.
July – Rhine in Flames 10 Nights – A wonderful short summer tour through stunning regions of Germany, cumulating with a river dinner cruise on the evening of the 'Rhine in Flames'.
Aug/Sept – Croatian Highlights 27 nights – Explore the stunning Adriatic coastline whilst traveling south to Dubrovnik.
Sept/Oct – Western Turkey 39 nights – Fully booked for 2020, reserve list available – Discover the spectacular coastlines, archaeological wonders and historic cities of Ankara and Istanbul as we travel through this wonderfully friendly country.
Sept/Oct – Sicily 31 nights – Mediterranean warmth and twenty five centuries of mixed rule await you on this tour; along with great African influenced Italian cuisine.
Dec – Magical Christmas Markets 7 nights – Enter into the Christmas spirit taking in the best of the Christmas markets and parades.
All our tours are equally suitable for both couples and single travellers alike. Often before joining a tour single people ask how it will be for them. A recent review from our 70-night Canary Islands tour sums this up.
'My first time with GB Motorhome Tours. I'm a single person and was made to feel very welcome, not only by Nurcan and Kevin who were superb tour leaders but by everyone on the tour. If you're single don't be afraid 'Go For It', you will not regret it. Roll on the next one.' Ken Starmer – Canary Islands – Jan to April 2019
For all travel abroad, of course a valid passport is required. Until recently when renewing passports this could be done up to 9 months in advance and the unexpired period of the old passport would be added to the new one. However, recent changes have stopped this, all renewed passports are now issued with a straight 10-year life span, regardless of when applied for. It now makes sense to renew near the time of expiry rather than too far in advance. When renewing your passport please also send us the new details upon receipt for updating to your bookings.
We look forward to escorting you and your motorhome to great places in Europe and beyond.
Kindest regards,
Nurcan & Kevin, Sue & Ron, Chris & Alan, Liz & Dave, Cheryl & John
Your GB Motorhome Tours Team
www.GBMotorhomeTours.com
Info@gbmotorhometours.com
0044 7481 479 057