Dear Fellow Motorhomer,
June and into July has seen GB Motorhome Tours travel west along the Atlantic Coast of France, north up to Norway, around The Baltic States in the east and through Bavaria in the south on four very different tours. Only the Baltic States tour remains away, with them taking advantage of the small summer window that exists for touring these countries. From the three completed tours some customer reviews
'A brilliant tour with an excellent mix of activities, some we would never have chosen to do ourselves, all thoroughly enjoyed. Thanks Alan & Chris for making it special.  All the best' Gill and John Kirk – An Atlantic Coast Adventure – June 2019
'Our first ever group trip, never disappointed. We loved every minute. A great group of people. Thank you Alan & Chris for all your hard work.' Nina & Michael Atkin – An Atlantic Coast Adventure – June 2019
'This was a very enjoyable well organised tour with lots of interesting places to visit. The tour leaders, Alan & Chris, couldn't do enough for you – they were so helpful.'  Yvonne Romer – An Atlantic Coast Adventure – June 2019
'Thank you Liz and Dave- a well researched and organised tour. You gave us an insight into a country we know little about but to which we hope to return.' Barbara and John Hughes – Southern Norway – June 2019
'Thank you Liz and Dave for an excellent tour. Norway was stunning- even when it rains. What a beautiful country we went to and saw so many wonderful and interesting places with you both as tour leaders. We look forward to travelling with GB Motorhome Tours again soon.' Lavinia and Mike George – Southern Norway – June 2019
'Another great GB Tour – we loved Norway. Fantastic scenery, probably the most beautiful country we have ever visited. Good roads and transport system, friendly locals and excellent company. An all round wonderful experience.' Joy and Dennis Coffin – Southern Norway – June 2019
'Southern Norway was our first GB Motorhome Tour but it won't be our last. In fact we've already booked two more! We fully understand the meaning of breath-taking scenery after our trip. We will never forget the white veins of Norway. Lots of laughs (despite the rain) from start to finish. Thank you Liz and Dave' – Carolyn and Nick Griffiths – Southern Norway – June 2019
'A well organised tour, taking in the beautiful Bavarian countryside – mountains, villages & lakes. The guided visits enabled us to enjoy and appreciate the different aspects of Bavarian history and culture. A big thank you to Sue & Ron, our tour directors, nothing was too much trouble' Jill & Jim Beeley – Southern Bavaria – June 2019
'Bavaria ticked all the boxes, this tour was exactly what we expected.' Kristin & Roger – Southern Bavaria – June 2019
Whilst all tours maintain the common theme of including the best campsites available in the areas being visited, along with interesting excursions and good quality group meals, each tour has a unique feel to it as it embraces the best aspects of each country. On the Norway tour and the Baltic States tour, nature plays a big role in these countries and creates some lovely camping opportunities.
Camping in Estonia – The Baltic States tour July 2019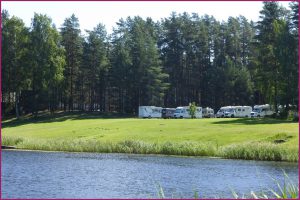 Camping in Norway – Southern Norway tour June 2019

Now that the school holidays are almost upon us GB Motorhome Tours takes a break from touring, leaving the campsites for families to enjoy their holidays. We start touring again towards the end of August with trips to Sardinia, Switzerland and Romania/Bulgaria. There remains one space available on the Swiss Magic tour, and there is currently 1 cancellation place available on each of the Romania/Bulgaria tour and the Sardinia tour. To book one of these places visit our website www.GBMotorhomeTours.com.
For the GB Motorhome Tour Directors their travelling over the next month or so takes place in the UK, with us exhibiting at three of the major summer outdoor shows. A number of our Tour Directors will be at each event so come along and see us, and feel free to ask them any questions. We start next weekend at the Norfolk show in Norwich.
After which we move a few weeks later to the Bristol Balloon Festival (8 – 11 August), where for the second year there will be a motorhome show taking place.
Then to finish off the summer we are at the Western Show in Malvern.
Be aware to remember when you're next travelling on the continent that speed limits in France on all roads except dual carriage-ways and motorways, have for the past year been reduced to 80km (50mph). We are hearing this limit remains in place and is now being enforced through speed cameras; with the French authorities having linked up with many European countries (UK included) to be able to trace owners of foreign vehicles. Be careful as 80kmh does not feel very fast when travelling on long straight roads with little traffic. For the thinking behind the low limit and for further information on it have a look at www.rac.co.uk/drive/travel/driving-abroad/speed-limits-in-france.
Have a great summer, long may the good weather continue for us to enjoy our outdoor travels and we look forward to escorting you and your motorhome to great places soon.
Kindest regards,
Nurcan & Kevin, Sue & Ron, Chris & Alan, Liz & Dave, Cheryl & John
Your GB Motorhome Tours Team
www.GBMotorhomeTours.com
Info@gbmotorhometours.com
0044 7481 479 057