Dear Fellow Motorhomer,
As we enter the New Year we look forward to many great motorhome travels throughout 2020. Our 2020 tour programme has already began with those on the Canary Islands tour making their way to southern Spain ready for the ferry to Tenerife next week. In the Canary Islands they can expect to find plenty of sunshine and already those on the optional travel from UK with Tour Directors package are beginning to experience nice days as they cross central Spain.
Camping Burgos, central Spain 17/01/2020

For a getaway to warm climates later this year take a look at our
The above tours can be viewed by clicking on the tour name and booked on our website.
Looking beyond 2020 we are finalising our spring 2021 tours and those to Greece, Turkey, Poland and the Baltic States will soon be available on our website. Many tours do become fully booked so as you decide which tour(s) you would like to join it's better to make a reservation at that point. Tours for later next year will be added to the website over the next couple of months including tours in France, Germany, Croatia, Norway, Austria and Cyprus.
Remember all our tours are a lot more than just us booking campsites for you; they all include group excursions with transport, a number of group meals, services of our Tour Directors travelling with the tour in their own motorhome, full printed tour information pack, all GPS co-ordinates for your Sat Nav and of course all the campsite are pre booked for you. Additionally, complete flexibility for you to decide to meet us at the start of the tour (which will be in/near the country of destination) or to have everything arranged for you all the way from the UK by including the 'optional travel from UK with Tour Directors package'. Within this package are included additional campsite nights between the UK and the start of the tour, your fully flexible return cross channel ferry with entry to the ships Club Lounge and the services of our Tour Directors travelling with you from the UK.
Where will your travels take you?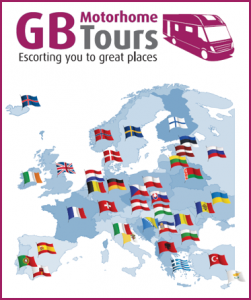 Wherever you choose to travel Brexit is looking very likely to start to take effect on 31/01/2020. In response to this many UK motorhome insurers are now advising those who will be out of the UK with their motorhome after this date to obtain a 'Green Card' from them. If you are to be away after 31/01/2020 it could be worth checking if your insurers wish for you to have a 'Green Card' with you and ask them to issue one accordingly.
We look forward to travelling with you throughout 2020 and beyond. If there is anything you wish to ask about any tours feel free to contact us at any stage, we are always happy to answer questions.
Kindest regards,
Nurcan & Kevin, Sue & Ron, Chris & Alan, Liz & Dave, Cheryl & John
Your GB Motorhome Tours Team
www.GBMotorhomeTours.com
Info@gbmotorhometours.com
0044 7481 479 057