Dear Fellow Motorhomers,
For those lucky enough to be motorhoming on our winter Canary Islands tour they have been enjoying great sunny weather with temperatures close to 30 degree's most days. They have so far spent 10 days on Tenerife and are now on the smaller island of La Palma, before returning to Tenerife at the end of the month for the start of the Canary Islands carnival season, a festival that only Rio de Janeiro does bigger.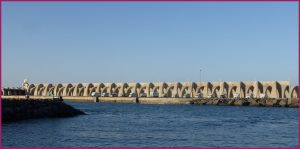 If you're wishing to soon get your motorhome moving to some sunshine one of our spring tours could be for you. Our Springtime in Holland, Southern Bavaria or An Atlantic Coast Adventure are all exciting opportunities. Additionally all the 2019 tours are now available to view on our website and for a real treat towards the end of this year the Christmas Extravaganza tour has stays in Paris and Epernay. In Paris we include a champagne dinner & show evening at the Moulin Rouge and in Epernay, the heart of the champagne region, dinner at the famous 'Bank' restaurant & an evening at the 'Habits de Lumiere' festival; full details of the tour are available by clicking on the tour name above.
For motorhome owners travelling in Spain you will probably be aware Spanish motorways are tolled. However this is changing; in some regions as motorways shift from private to state operation tolls are being removed. Our Canary Islands tour directors report back, that whilst recently passing through northern Spain tolls on the AP1 have now been completely removed and you may use the motorway free of charge.
We hope to be travelling with you soon and until then if there is anything you wish to ask about any tours feel free to contact us, we are always happy to answer questions.
Kindest Regards,
Nurcan & Kevin, Sue & Ron, Chris & Alan, Liz & Dave, Cheryl & John