Dear Fellow Motorhomer,
April and the UK's early Spring weather is good. Whilst being in 'lockdown' does not allow travel at these times, having lots of spring sunshine at home is very welcome.
Coronavirus continues to dominate and influence all travel plans. GB Motorhome Tours is monitoring the situation very closely, both in general terms and with how this is changing in specific locations across Europe; for the impact it is having on tours due to start soon and the impact it could have on tours for later in the year. The UK's Foreign & Commonwealth Office travel advice is a major source of information in this process, along with information received from our suppliers in all countries across Europe. Email updates are being sent to all customers with tour bookings as information becomes available relating to their tour and these will continue until normal travel is resumed.
All of us at GB Motorhome Tours appreciate how much our motorhome holidays are looked forward to and the disappointment that comes should a tour be cancelled. GB Motorhome Tours has never cancelled a tour previously for any reason, but this is now something that has been taken out of our control. Our Greece 2020 tours would have started this week but for this year have had to be cancelled. Where GB Motorhome Tours are forced to cancel a tour we are all committed to trying to offer alternative holiday options around the same time. For the Greece tour, it is not possible to travel anywhere at present, so the tour has been rearranged for next year. All from this years trip have been offered a place for next year.
Coastal driving on the Greece tours

If you would like to be in Greece at this time next year the Greece 2021 tours are available to view and book on our website. Bookings for all the 2021 tours listed on our website remain open and GB Motorhome Tours will continue to process these for you. Further tours will be added to the 2021 programme as time goes on. Currently capacity is being retained in 2021 to fit in any further tours from 2020 that could have changes forced upon them.
Three weeks ago all tour participants from our winter Canary Islands tour arrived safely back to the UK and have remained well since returning home. Some tour participants reviews from the trip.
'What can we say it really was a fantastic tour – the group meals superb, all our fellow travellers very kind, Kevin and Nurcan went above all to help us. Thanks to all.' Brian and Barbara Fletcher – Canary Islands – Jan/Mar 2020
'We did this trip 4 years ago and we decided to do it again in 2020. It was still excellent. Kevin and Nurcan are the ideal leaders, so well organised. It was a shame the holiday had to be cut short because of Coronavirus but Kevin and Nurcan got us through it. We have lots of wonderful memories, had many laughs and made some very good friends. Can't wait for the next.' Wendy & Bob Usher – Canary Islands – Jan/Mar 2020
'A fantastic tour with a great group of people. The organisation, support and professionalism provided by Kevin and Nurcan throughout the entire tour was exceptional but especially when we had to make a speedy exodus to get home before Gran Canaria was completely locked down. It is difficult to highlight one particular trip as they were all excellent in their own way, but for us the drive over the mountains in Gran Canaria will stay with us for ever.' Graham & Margaret Smithies – Canary Islands – Jan/Mar 2020
Drive over the mountains in Gran Canaria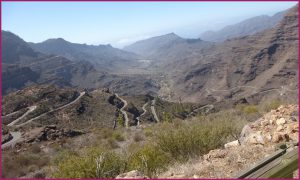 On the return journey from the Canary Islands our Tour Directors came across another instance of a new Fiat motorhome having been supplied with an incorrect spare wheel. This is the third time we have seen this so it is worth having a look at yours, also check if you have a Peugeot or Citron based motorhome as they share the same wheels. If your motorhome has the following 16 inch alloy wheels fitted,
the spare wheel is likely to be in steel and needs to be black in colour (with a stud pattern of 5×118 PCD) to fit your motorhome. The ones we are seeing are silver (with a stud pattern 5×130 PCD) and come from the Ducato heavy chassis which has a larger stud spacing pattern (PCD of 130mm compared to the required 118mm). These wheels are not interchangeable and do not fit the alternative chassis. Pictured below are the two so you can see which steel wheel will fit as a spare for the above alloy wheel.
Have a check of yours and if it is not correct, speak with your motorhome dealer to get it changed. Do this before you find out the hard way that you have the wrong one when trying to change a roadside puncture. This situation does not affect 15 inch wheels, only those of 16 inch. Further reading on the issue can be found at www.tyremen.co.uk/guide/motorhome-spare-wheel
This weekend would have seen the start of the Peterborough Motorhome Show. Whilst this event cannot  take place, it has been postponed rather than cancelled. The show's re-arranged dates are 31 July – 2 August and GB Motorhome Tours have retained their stand at the event and will be attending, so do put it in your diary and come along to see us.
In these unprecedented times it is worth remembering that being a tour operator who fully embraces the 1992 Package Tour Regulations all money paid to GB Motorhome Tours is completely protected. This means that should your tour have to be cancelled by GB Motorhome Tours all money paid directly in relation to that tour is fully secured and refundable. Whilst we have no wish to cancel tours it is important to know that should it be necessary your money is safe.
All of us at GB Motorhome Tours remain well and ready to travel again as soon as circumstances allow. In the meantime keep yourself well and we'll look forward to escorting you & your motorhome to many more great places very soon, and for many more years to come.
Kindest regards,
Nurcan & Kevin, Sue & Ron, Chris & Alan, Liz & Dave, Cheryl & John
Your GB Motorhome Tours Team
www.GBMotorhomeTours.com
Info@gbmotorhometours.com
0044 7481 479 057